Better fishing through science
Dr. Juice® Scents contains BOTH oils and water soluble ingredients, the same as
natural living bait.  It combines both scent and taste ingredients that large
wary fish crave. It drives them to hit harder and hang on longer.
Learn more about the science of Dr. Juice®
Dr. Juice® was started over 30 years ago in Duluth, Minnesota by anthropologist and psychiatrist Dr. Gregory Bambenek.  His research from the tropical jungles of South America to the bamboo forests of China have brought to you ancient fishing formulas from around the world.  These formulas have been perfected by science at the Osmic Research Co. Lab, bringing you the only fish attractant on the market that has powerful magic backed by real science
Each bottle of Dr. Juice® is a cocktail of SEX, FEAR and SCHOOLING pheromones
designed to trigger frantic behavior in even the most lethargic of game fish. 
Dr. Juice® is a precise combination of secret ingredients
that TRIGGER the ATTACK-and-DESTROY behavior of the central nervous system of fish.
Dr. Juice® Super Concentrate Scents
Dr. Juice® can more than double your catch according to results of charter boat captains, guides, and tournament pros. Dr. Juice® scents are species specific, employing the exact scent ingredients that fish find irresistible. Dr. Juice® Super Concentrate Scent has double the Attack and Destroy ingredients, making it a small bottle with double the punch.
View More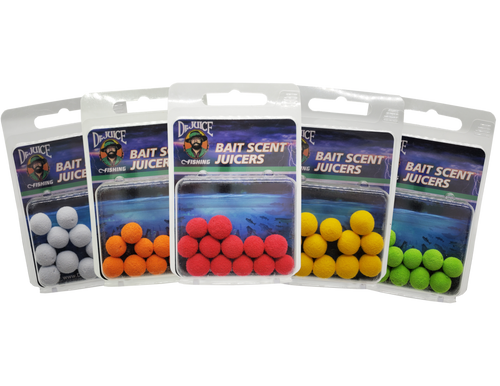 Dr. Juice® fishing scents utilize a scientifically formulated combination of species-specific
pheromones to attract target species and trigger a strike
Dr. Juice® Tournament Sized Bottles
When you're on the water and the stakes are high, you need to know you're not going to find your bottle empty. That's why Dr. Juice® offers scent fishing products in tournament size.